December 6th, 2018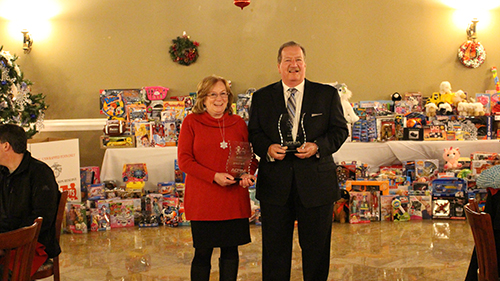 The Metropolitan Fastener Distributors Association (MFDA) inducted two members to its Hall of Fame tonight.
Bill Lang, formerly of ND Industries and Pat Lang of Kanebridge Corporation were honored for their years of service to the MFDA and the fastener industry as a whole.
Bill first worked at Bell Fasteners in Paramus NJ. When Bell moved to Rhode Island, Bill was hired as an outside salesman at Aerospace Nylok in Hawthorne NJ. In 1988 following the purchase of Aerospace by Nylok LLC, Bill was hired as the sales manager for ND Industries' division in Wyckoff NJ, retiring 30 years later as the division's general manager. Bill served two terms as the MFDA president and recently retired as a board member.
Pat got her start in the fastener business working at Monogram World Fasteners. When World closed in 1983, Pat was hired at Kanebridge Corporation, where she became the sales manager in 1985. During Pat's time in charge, the department grew from 4 employees to 19, and has always been on the cutting edge of customer support and employee accountability. Pat was also a longtime board member of the MFDA.
In their comments following their induction. Pat and Bill spoke of their affection for the MFDA and their friends in an industry they "didn't suspect existed" back when they were dating in High School. When asked about his outstanding reputation among customers and competitors, Bill said he just "tried to be nice to people". Pat also proudly remarked at the tremendous growth of women in the fastener industry, pointing out that there are many more businesses owned and run by women than there were when she started.
Bill and Pat join 2017 inductees Bill Fivehouse, Chuck Halpin and Doug Thonus, and 2016 inaugural members Sidney Cohen, Roger Stillman, Ron Jones, and Lelsie Seiper. They will be added to the MFDA's Hall of Fame page at www.mfda.us and the MFDA 2019 Hall of Fame Scholarship will be awarded in their honor at the association's June 2019 Scholarship dinner.